About the Würth Elektronik eiSos Group
Würth Elektronik eiSos GmbH & Co. KG (Focus: standard components), Würth Elektronik iBE GmbH (Focus: customized passive components for the automotive industry), Wurth Electronics Midcom Inc. (Focus: transformers and custom magnetics), Würth Elektronik Stelvio Kontek S.p.A. (Focus: customized plug connectors) and AMBER wireless GmbH (Focus: wireless data transmission solutions) form the Würth Elektronik eiSos Group. The group of companies with 6,700 employees generated sales of approx. € 653 million in 2017. The Würth Elektronik eiSos Group is one of the biggest European manufacturers of passive components and operates in 50 countries.
Through its technology partnership with the Audi Sport ABT Schaeffler Formula E Team and its support for the Formula E racing series, the Group demonstrates its innovative strength in eMobility ( www.we-speed-up-the-future.com). Other global growth markets, such as Energy Harvesting, Internet of Things and Wireless Communication, are addressed with innovative products.
The Würth Elektronik eiSos Group is part of the Würth Group, the world market leader for assembly and fastening technology.
Würth Elektronik: more than you expect!
Further info at www.we-online.com
REDFIT IDC SKEDD Connector
REDFIT IDC is a solderless reversible direct plug-in connector with SKEDD technology and insulation displacement connection. The SKEDD contacts are plugged directly into the plated through-holes of a PCB. A complete part and a potential error source is eliminated. This results directly in higher process reliability, savings in space, material and process costs.
REDFIT IDC – SKEDD Connector from Würth Elektronik eiSos
Applications & Benefits
Connector for Signal Transmission, Programming and Debugging
Consumer Electronics
Solar Industry
Industrial Electronics
Mechanical Engineering
Switch Board Construction
Loss of a Complete Part and Potential Error Souce on PCBs
Quick and Easy Processing
Space-Saving Design
Higher Process Reliability
Reduction of Process Costs
Lower Material Costs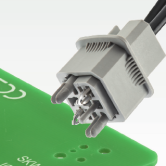 Application Note: SKEDD Technology, Advantages & Applications
In this application note, SKEDD technology partner Würth Elektronik eiSos describes the benefits and applications of its REDFIT IDC connector series, which features SKEDD technology.
Behind the scenes: REDFIT IDC SKEDD Connector – Testing, production and in action
Connection Technology
Cable side: Insulation Displacement Connection
Direct Connection to Ribbon Flat Cable
No Stripping
All Strips are Contacted Simultaneously
High Transmission Quality
Permanent Connection Security
PCB side: SKEDD Direct Plug-in Technology
Direct Connection to the Plated-Through Hole
Multiple Mating Cycles
Pluggable by Hand
Low Contact Resistance
Vibration-Resistant Connection
Processing
Process Safety in Assembling
Red Cable Marking of Pin 1
Reverse Polarity Protection of the Housing
Maintenance Friendly in Field
Tool-Free Mounting on the PCB
Quick Replacement during Maintenance
Contact
Würth Elektronik eiSos GmbH & Co. KG
Electronic & Electromechanical Components
Max-Eyth-Str. 1
74638 Waldenburg
Germany

Tel.: +49 7942 945 - 301
Fax: +49 7942 945 - 5000
E-Mail: eiCan@we-online.de
www.we-online.com