SKEDD-Contact – Characteristics
The SKEDD contacts are produced using a stamping technology. They can be designed with two or four arms (in folded design). Thanks to the combined stamping and bending method, the SKEDD contact is made from one piece of material, but with two different material thicknesses:
In the crimping area the material thickness corresponds to the punching strip.
Double material thickness arises in the contact zone as a result of the folding process, which leads to an excellent electrical connection in the circuit board.
Thanks to the design features and, in particular, the spring properties of the SKEDD forks ...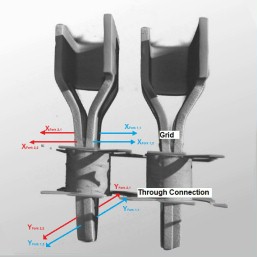 ... the SKEDD contact balances the grid tolerances in the circuit board hole and in the plastic body of the connector.
... the contacts always match the diameter of the circuit board contact sleeve.
... the achieved contact normal force ensures a secure electrical connection.
... even higher-pole connectors can be easily reversibly inserted and released again.
Depending on the specific requirements, the SKEDD contacts are developed with different ...
... contact normal forces
... contact geometries
... basic materials
... contact surfaces.
The surface recommendations for plug connections in general also apply in the same way for SKEDD connections.
In addition to the adaptation of the geometry of the SKEDD fork, the contact normal forces of the SKEDD connection can also be fine-tuned via the hole diameter in the printed circuit board.